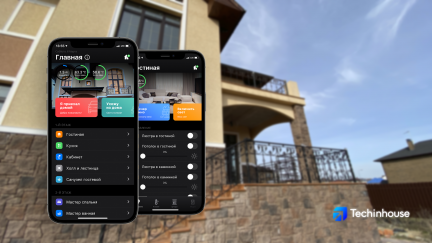 Type of project:
Individual
Location: "Pevchee" settlement, Moscow Region, Russia
Equipment: KNX
iRidium product: iRidium pro
House in "Pevchee" Settlement (Techinhouse Ltd.)
Project description
It's a 400 sq. meter house in "Pevchee" settlement, Moscow Region.

Lighting:
- light is turned on/off centrally and in scenes;
- dimming;
- LED lighting;
- "Moon walk";
- "Day-Night" mode;
- Zennio motion sensors.

Climate includes control of:
- heating;
- Breezart inflow exhaust ventilation system;
- МITSUBISHI ЕLECTRIC air conditioners;
- warm floors.

Control of motorized blinds.

Resource consumption includes:
- metering of electricity consumption;
- trends of resource consumption;
- metering of boiler equipment.

Security:
- AJAX security complex;
- Hikvision, NAS Synology video surveillance.

Additional functions:
- leakage protections with notifications;
- Akuvox SIP intercom;
- voice control via Yandex Alice;
- control of SPA complex (sauna, hamam);
- control of entrance and garage gates.

The following interfaces were chosen to control all of it:
- Control from universal interfaces by Zennio;
- Control of all systems from one exclusive interface based on iRidium mobile.

The project is completed.

Control panels :
iPhone

Equipment of the project:
Zennio, Breezart, МITSUBISHI ЕLECTRIC, AJAX, Hikvision, NAS Synology, Akuvox, Zennio.



Screenshots
Photos