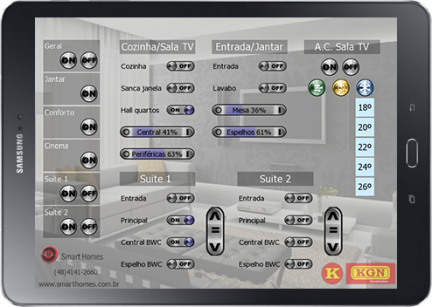 Type of project:
individual
Company: SMART HOMES
Location: Brazil, Florianópolis
Equipment: SBUS
KGN Apartments (SMART HOMES)
Tasks set by the client in the project
Full automation of 15 apartments.

Project description
Construction company invests in automation or lighting, air conditioning and scene control from tablet. A&V controls can be later on made for future owners.

Control panels
Samsung Galaxy T385 Tablets - 15 pcs.

Equipment
SBUS MIX IP MHRCU.433 — 15 pcs.
SBUS 8 Button keypad — 15 pcs.
SBUS BCU Energy — 15 pcs.
SBUS IR emitter — 15 pcs.
SBUS 4 dry contact — 15 pcs.


Photos