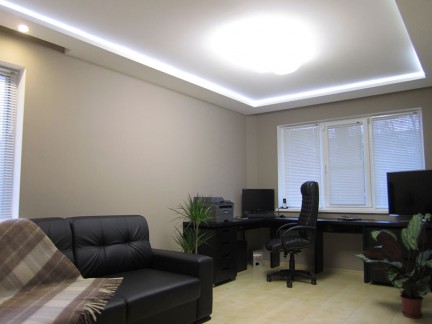 Type of project:
individual
Company: freelancer
Location: Belorussia, Gomel'
Equipment: Modbus, XBMC
Bright (freelancer)
Tasks set by the client in the project
The initial task was to control lighting and the electronic door latch using the smartphone. Then the control of the intercom (with the function of switching-off the sounds of TV set and PC when the intercom rings), TV set, computer media server (XBMC), RGB LEDs. It was also necessary to realize the hidden ip-surveillance in the hall and the sitting room with the capability of remote control. In the nearest future we plan to make the air conditioner, electric fire place and blinds control.
Project description
Automation of the small 2-room apartment with the total area of 43 m².
Difficulties you faced while working on the project
We decided not to buy special equipment for intercom signal control, that's why we used self-made budget option using the chip based on operational amplifiers.
Control panels
: Samsung S4mini - 1
Equipment of the project
Modbus equipment by Russian company Instyle
RGB Wi-Fi controller Noname (China) – 1
IP-camera Boavision (China) – 2
TV set Samsung UE40ES6800 – 1
Programme media server XBMC – 1
Motion sensors (Belorussia) - 1
Photos and screenshots