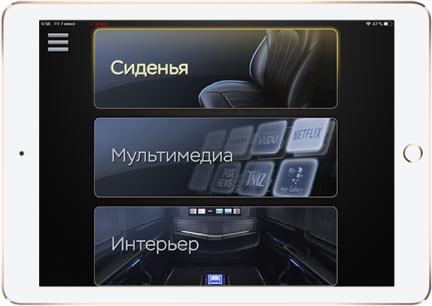 Type of project:
individual
Company: "АЕМ"
Location: Russia, Dolgoprudniy
Equipment: A/V
Control of Mobile Office ("АЕМ" )
Tasks set by the client in the project
The task was to realize control of Mercedes multimedia system, Sony TV, Apple TV, the passenger seats, the electrochromic glass divider, additional motorized seats and other mechanisms.
Project description
Control of the multimedia system and other items of the car interior from iPad mini. The project is done without script.
Control panels
iPad mini — 1 pc.
Equipment
Global Caché iTach WF2IR — 1 pc.
Photos