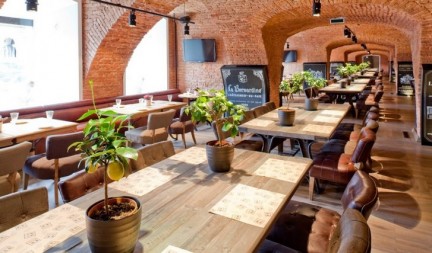 Type of project:
individual
Location: Russia, Saint Petersburg
Equipment: KNX, Global Caché
Automation of "Meat Head" Restaurant (Intelliger)
Project description:
An interface with two modes was created to control the system. One interface displays turned-on lights on the plan of the restaurant, and lights can be turned off. The other interface displays all lights of the restaurant in a table and allows to turn on/off the light in different halls.
Why did you decide to use iRidium? How did it improve your project?
Automation system that provides easy and convenient control of lighting was realized in the "Meat Head" restaurant. Several types of diod dimmers, controlled from a mobile app are used in the project. Besides, light scenes were created that can be launched both from an app and wall-mounted keypads.
Difficulties you faced while working on the project :
The main task was to set the work of all lights to create a required atmosphere. It would be difficult to create such an atmosphere manually, as some lights are built-in the walls, others are hanging from the ceiling, others are built-in the floor and all together they give too much light.
Control panels:
Wall-mounted key pads and iPad.
Equipment:

KNX, Global Caché