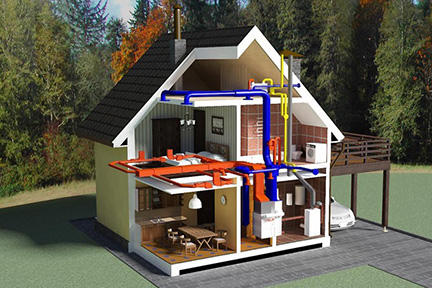 Functions:
- Control of heating (including floor heating) in 6 zones
- Control of heating valves, relays or 0-10V
- Monitoring of air and floor temperature
- Work in different modes: timers, schedules, day-night.
Multi-zone heating automation system
Equipment, software
Required equipment
License iRidium for HDL BusPro
6ch heating control module HDL-MFH06.432
Sensors
Power supply
Logic controller
IP interface for HDL BusPro
Additional equipment
heating valves by Oventrop, Danfoss, etc.
Task
To offer a system of multi-zone control of heaters and water-based floor heating for a typical house.
The system is:
to consist of modules;
to be expandable;
to set exact temperature for each zone;
to have floor and air temperature sensors
Scheme of connection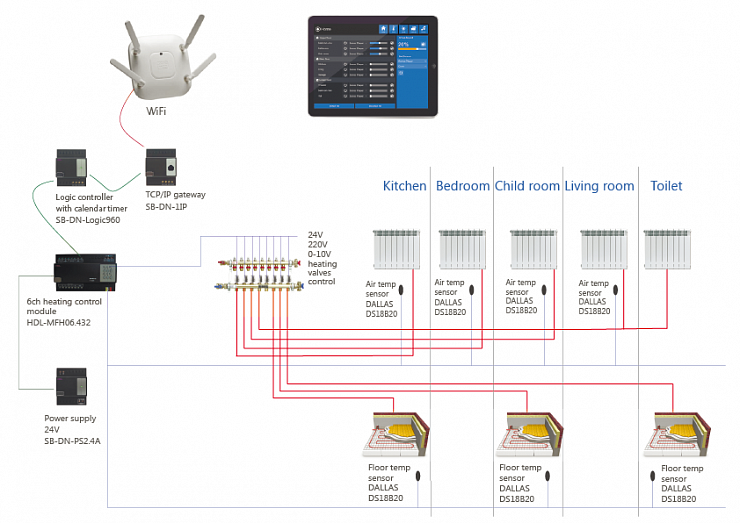 To add your project in the References section you can fill in the form in thee
"Add your project"
section. If your project conforms with the format, it will be published under your name and with the link to your web site.