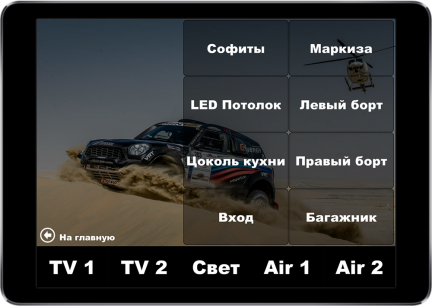 Type of project:
individual
Location: Russia, Saint Petersburg
Equipment: KNX, Global Caché
Smart Home on Wheels (Intelliger)
Project description:
Automation system of a Mercedes following truck of the G-Energy racing team. The project features control of light, climate, multimedia systems and the monitoring system of the two living areas.
Why did you decide to use iRidium? How did it improve your project?
The whole system Is controlled from two iPads mini, one of which is built-in the wall, the other is mobile. An interface was designed that displays outside and room temperature, air quality and the level of drinking and non-potable water. The project also features control of two TV-zones.
Difficulties you faced while working on the project :
The square of the project is very limited and there was little time. Nevertheless, an interesting fully-functional project was created.
Control panels:
iPad mini - 2 pcs.
Equipment:

KNX, Global Caché