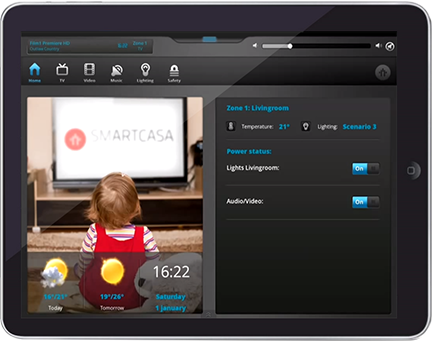 Type of project:
individual
Company: SmartCasa home automation
Location: the Netherlands, Tilburg
Equipment: A/V equipment
SmartCasa (SmartCasa home automation)
Tasks set by the client in the project
The task was to control the information sent to and received from equipment.
Project description
iRidum Mobile controls several Ethernet AV devices and parses information from them. With this information we control the devices.
The advantage here is that you literary see what you are controlling instead of arrow controls.
Challenges you faced while working on the project
It was quite a challenge to bring it all together and control it in an understandable visualization.
Control panels
iPad Air / iPad mini retina
Equipment of the project
Onkyo TX-NR929 AV receiver
VU+ Duo2 satellite receiver
Popcorn Hour mediaplayer
Synology DS412 NAS
Samsung UE55F8000
Screenshots